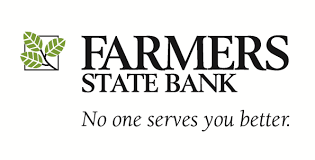 When it comes to your finances, we know how important it is to bank with people you know and trust.
Community banks are the backbone of America. The people you will see inside a community bank are members of the community and understand the needs of the people in which it serves. They give back to their community in ways that will have a lasting impact.
So, what sets Farmers State Bank apart? Not only is FSB a family owned and operated bank, but it is also a faith-based bank. When you're placing your trust in a bank to protect the things that matter most, we believe it is important the financial institution you choose shares the same values as you. If you're a person of faith who puts family first and leads with generosity, than look no further than Farmers State Bank.
Farmers State Bank was singled out as the 2022 Extraordinary Bank of the Year, a national honor for exemplary performance in five areas of banking: philanthropy, customer service, thought leadership, workplace culture, and financial literacy education. It currently operates out of four locations with a fifth scheduled to open Spring of 2023.
Please visit the Farmers State Bank website or stop by one of our locations to speak with a banking expert today.
The link you clicked will take you to one of our partner websites. We don't control the content of our partner sites. Please review their Privacy Policy as it may differ from our Privacy Policy. We hope you found the information you were looking for from FSB Insurance.
Get Started
Insuring the things that are most valuable in your life and business deserves some personal attention.
Contact Us
We're always happy to hear from you.
ALTO PASS
55 North Elm
P.O. Box 70, Alto Pass, IL 62905
618-893-2464
Lobby Hours
Monday – Thursday: 8:30am – 3:00pm
Friday: 8:30am – 6:00pm
Saturday: 8:30am – 1:00pm
Sunday: Closed
No ATM or drive thru
at this location
HARRISBURG
555 South Commercial
P.O. Box 250, Harrisburg, IL 62946
618-252-2600
24-Hour ATM available
Lobby Hours
Monday – Friday: 8:00am – 4:00pm
Saturday – Sunday: Closed
Drive Thru Hours
Monday – Friday: 7:30am – 6:00pm
Saturday: 7:30am – 12:00pm
Sunday: Closed
HERRIN
1720 S Park Ave
Herrin, IL  62948
618-942-0034
24-Hour ATM available
Lobby Hours
Monday – Friday: 8:30am – 4:00pm
Saturday: By Appointment
Sunday: Closed
Drive Thru Hours
Monday – Friday: 7:30am – 6:00pm
Saturday: 8:00am – 12:00pm*
Sunday: Closed
*No Saturday access to Safe Deposit Box
MARION EAST
1106 West DeYoung
P.O. Box 1717, Marion, IL 62959
618-998-1188
24-Hour ATM available
Lobby Hours
Monday – Friday: 8:30am – 4:00pm
Saturday: By Appointment
Sunday: Closed
Drive Thru Hours
Monday – Friday: 7:30am – 6:00pm
Saturday: 8:00am – 12:00pm*
Sunday: Closed
*No Saturday access to Safe Deposit Box
MARION WEST
2806 Outer Drive
P.O. Box 1717, Marion, IL 62959
618-998-1188
24-Hour ATM available
Lobby Hours
Monday – Friday: 8:30am – 4:00pm
Saturday – Sunday: Closed
Drive Thru Hours
Monday – Friday: 8:00am – 5:00pm
Saturday – Sunday: Closed